How to Create an Amazon Sales Funnel
Amazon provides sellers with some major benefits. However, most of the sellers that I talk to are missing out on sales.  I wish it was as easy. I wish all you had to do was put a product on Amazon and people would buy it, but nothing worth doing is ever easy.  When it comes to marketing your product, most sellers are in one of two places.  Either they are counting on Amazon to do all of their product marketing for them or they are running ads on sites like Facebook and sending the traffic directly to Amazon; which is a good way to spend a lot on ads and get absolutely no return on your investment.  You can't expect people to buy your product after seeing just one ad.  You need to guide them through the process and help them get to a point where they are ready to buy.    How often do you see a product on social media that piques your interest but you're not ready to buy just yet?  Your prospective buyer is the same way.    We call this process a 'sales funnel' or the 'buyer's journey.'  Why should you use a sales funnel?  Well, sales funnels help you shorten the sales process and increase your bottom line.  They also help move you up in Amazon rankings.
How to get started
So, what do you do? First, we need to change the way we look at social media ads.  The first goal of your social media campaign shouldn't be to sell more on Amazon.  It should be to capture emails.  Let's say that Amazon goes away tomorrow or, more likely, for some reason, decides to ban you from their site.  Or you suddenly face lots of competition.  What would you do?  Well, if you had an email list, you would have a better chance of surviving than if you didn't have an email list.
Email is the key
Email is important because it gives you a direct connection to your customers and prospects.  Let's say you want to launch a new Amazon product. You can simply email your list to announce your new product.   You can also stay in touch with your prospects or customers with weekly or monthly emails.  Email, despite some bad advice that you'll see online, is still one of the most powerful marketing tools you have, if used properly, because it gives you a direct connection to your prospects and customers. 
Here is how the process works:  Your ad invites them to a page on your website called a landing page.  The reason you send them to a landing page is because if you send them to your home page, they will get lost.  A landing page is a page that is designed to get people to do one thing, in this case, collect their email address.  To get them to this page, you need to have something on the page that they want that is worth exchanging for their email address.  This is called a lead magnet.  Two types of lead magnets that work well for Amazon sellers are discounts and educational content. 
Discount Offer
If you are going to use a discount code, make sure you do so with single-use promo codes to protect your inventory.  We have all heard the horror stories of a discount that went wrong on Amazon.  People who get your code also get a link so they can click through to your Amazon listing, increasing your sales.
Educational Content
How do you create educational content? This can be done by creating a video or e-book that provides value related to your product.  Let's say you sell an air fryer. Maybe the free educational content that you provide is a free e-book cookbook or a series of air fryer cooking shows that feature your product but are focused on how to make great food, opposed to why they should buy it.  This allows you to build long term relationships, setting you up as an expert and demonstrating ways they can use your product to cook a great meal.  Video is actually more valuable for you as a marketer because you can track how much of the video someone has watched and then retarget them with more videos.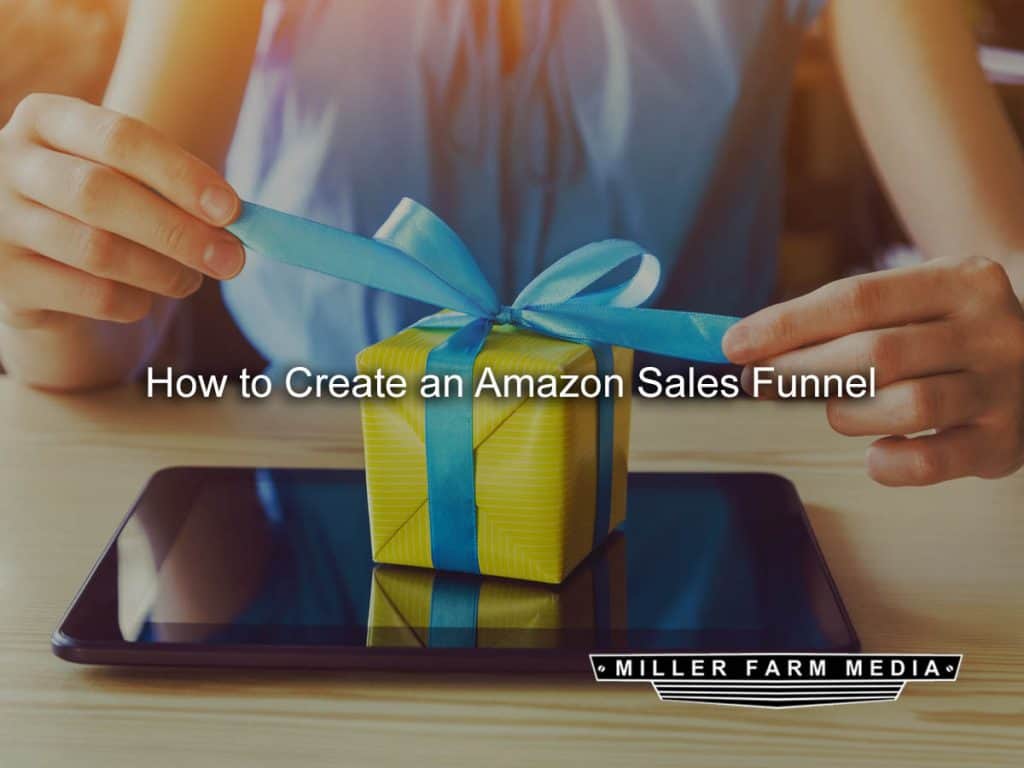 Which leads us to your must valuable audience:  your retargeting audience.  These are people who have interacted with a post, viewed an ad, watched a video, or have given you an email address.  It is important to stay in front of these people with content that helps them move to the point where they are ready to make a purchase.    It may take a few video ads to get them to the point where they are ready to download your lead magnate.  This process isn't easy but those that take the time to build an Amazon Sales funnel will see higher sales and have the ability to upsell and cross-sell better than their competitors. 
Use as many different platforms as you can when creating this Amazon sales funnel.  You want to create what is called an 'omnichannel' approach where you might use Facebook ads to get them into your funnel, but you also use Google ads or YouTube ads to remind them about your product.  You want them to see you everywhere they go.  You don't do this to be annoying.  You do this to remind them about your product. 
Do you need some help with your Amazon Sales Funnel? Contact one of our video strategists to learn more. 
Not ready for us yet? You can read this blog post about How to Create Product Videos For Amazon