Company Introduction Video Services
So you can increase leads and sales
Why do you need a company introduction video?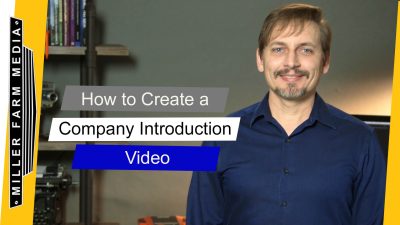 You need to update a current video
Your CEO said they want a video
You need to increase SEO ranking
Are you struggling to increase sales?
Do you need a competitive advantage?
Do you struggle to explain what you do?
A company introduction video is usually the first video a company will create.  It might also be simply called an 'introduction video' or 'about us' video.  Regardless of what you call it, this is a short video that tells the viewer what they need to know about your company to get them to move to the next stage in your sales process. Your company introduction video needs to focus on the needs of your customers.
Creating a video to introduce your company is a great marketing strategy to establish brand awareness and build trust.
Did you know that a company introduction video makes your brand unique and recognizable? It allows you to show a behind-the-scenes view of your company. That includes your logo, name, branding, and your unique value as a company.
The Importance of Corporate Video Introduction
From the most efficient marketing opportunities to internal communications, videos have taken over the business realm as a significant source of information to your customers and staff. Miller Farm Media is a full-service corporate video production agency focusing on creating high-quality company introduction video services produced by a team of industry experts in their respective fields.
Today's online world is ruled by video content on social media, websites, emails, and internal business communications. Miller Farm Media is uniquely positioned in the market with a relevant combination of video production and filmmaking experience.
That enables us to create video content, which will help boost your online presence, improve your brand awareness, give your sales team an advantage and produce website traffic, leading to more sales and a higher market share.
Reliable and Professional Video Company
Miller Farm Media offers professional corporate video services to support your brand to your client base and receive the attention of possible future customers. Our specialist team understands the value of the video. Our team will work with you through each process, from concept to development, storyboarding, content writing, shooting, and post-production, and handling as much or as little of the process as you need.
Product and promotional videos should reflect the exceptional customer service and superior quality your business provides to customers. The experts at Miller Farm Media utilize their professional video production set to make the type of dynamic, impactful company introduction videos that will effectively drive new and existing customers to your site and grow your brand simultaneously.
Company Introduction Videos Designed to Boost Sales
A company introduction video effectively introduces your brand to the public. It lets them know who you are and how you run your company, building your business as a trusted industry-leading resource.
Our team of digital marketing and video production experts will create a plan through various video applications and types to make the most out of your brand awareness and online presence.
Get Corporate Video Services Today for All Your Brand Efforts!
At Miller Farm Media, our company introduction video team brings an excellent filmmaking background with 20 plus years of experience that enables us to make professional storytelling in the form of highly efficient corporate video services from your internal communication to digital marketing needs.
Call us today to get a free estimate!
We Increase Your Sales In 3 Steps