Social media has become a powerful but complex business marketing tool. Many businesses have unrealistic expectations for social media marketing services. 
In 2020, people increased their social media usage by 50%. If your brand has been slow to adopt social media, 2022 is the time to get started.
Social media marketing has been a part of business for over a decade now, and the way a company should use it has changed. Social media alone will not make your business successful. But when used as part of your overall marketing strategy, it will help increase leads and sales. This guide aims to help those who are new to social media and also for those who are checking to make sure what they are doing works.
Set Goals that Work for Your Business
Think about how social media fits into your overall marketing strategy. Your social media efforts are not an island. They need to be aligned with all your other marketing efforts. For maximum impact, your sales and marketing need to be aligned. Sales and marketing alignment should be your ultimate goal.
There are many variables to consider. From the tone of your posts to which kinds of companies you're targeting. What are the most critical issues facing your company? Which platforms would best help you solve those problems? Look at the relative sizes of various companies and see which have a bigger budget for social media marketing.
When setting goals, it is essential to set realistic goals. Start small and scale your plan from there. It is easy to waste money on social media, which is getting more and more expensive. What are your goals for each stage of the buyer's journey? There are various theories about how many steps are in the buyer's journey. 
At the very least, your buyer's journey has five steps: awareness, education, consideration, decision, and retention. Your plan will need to engage them at each stage.
Here are some goals you might want to consider:
#1. Increase awareness for your brand by letting people know your company exists. Awareness is the most popular social media goal because it seems like it is easy. Make sure you are providing value, and don't be afraid to show your company's personality. 
Be careful not to use promotional messages.
#2. Increase leads and sales
#3. Grow your audience
#4. Increase traffic to your website
#5. Grow your email list
#6. Research your target audience
Research Your Target Audience
You never want to assume anything about your audience. It is why most online marketing fails. The assumption from B2B companies is that their target audience is boring. This is an assumption that isn't true, and it also shows a lack of respect for the people that pay your bills. Everyone is special, and the more you can learn about them, the more you can help them solve their problems as it relates to your product or service, and the more you will sell.  How do you learn about your audience?  Fortunately, social media is also a great way to research your target audience.
Create Metrics and KPIs
Social media is a combination of data and creativity. If you don't have the right amount of both, your social media won't succeed. Many companies focus on vanity metrics. It will help if you concentrate on metrics that lead to actual business activity. Some ideas are:
Click

Reach

Engagement

Hashtag performance

Organic and paid likes

Choose Your Platforms
The more you know about your target audience, the more it will help you choose the right platform to reach them on. If your target audience is millennials or Gen Z, you should consider Instagram and TikTok. 
Women are more likely to use Pinterest than men. LinkedIn's users are more business-focused. They are also older than the users on other sites, with the largest age group on LinkedIn being between 46-55. Facebook and YouTube are great for ads because of their robust targeting features and because the people on those sites have money. You can choose more than one platform, but don't spread yourself too thin trying to grow on too many platforms simultaneously. Start with the platform your target audience is already active.
Consider Free Speech Platforms
Many of the top platforms are losing users because they are policing what can be said. 
We can all agree that threatening someone else and pornographic images should not be allowed. But the cure for speech we don't like is more speech. Big tech doesn't agree, so this has led to the rise of free speech platforms which are an opportunity for your brand to be present to an audience who isn't on those other platforms. History has taught us that it's easier to win on a new platform than an established one. I am not suggesting your brand be political. 
Sites like Parler and Gab have a bad name in the media because they compete against the big tech's monopoly, not because they are doing anything wrong.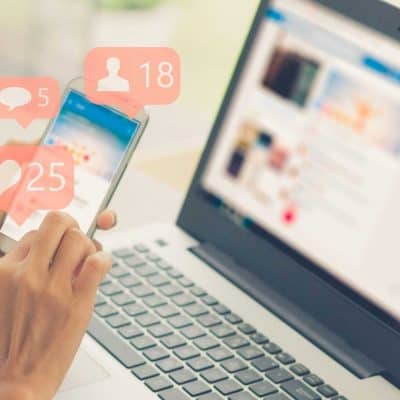 Create Engaging Content
Content is no longer king. It is common. This means you need to go beyond showing up and use creativity as a competitive advantage. 
The first mistake companies make on social media is that they talk about themselves. Your content needs to be about the problems you solve for your audience and the things that are of interest to your target audience. It needs to look and sound like your brand. 
This will be the first time they have thought about the voice they should use for many companies. Learn the formula for good storytelling and use it to create your posts. Storytelling, when combined with data, makes for a powerful combination. Always be looking at what is working and what others outside your industry are doing for creative inspiration.
Use Video to Make a Human Connection
Video is the most powerful tool your business has next to face-to-face communications. It is also the most powerful type of social media content. 
Unfortunately, it is also the hardest and most expensive. Some types of video for social media can be done with a smartphone, such as stories and reels. Other types will need professional help. Your professional videos should be an asset that can be used repeatedly, at least for a few years. Look at them as a long-term investment.  Consider a Video Production Subscription to help you create videos throughout the year. 
Employee Branding
Social media is for people, and this leaves brands at a disadvantage. Take a quick look at Tesla's social media vs. Elon Musk. Elon has way more followers because people want to connect with other people. Employee branding is letting employees use their social media to spread your company message. Each one of your employees has 50 – 500 followers on social media. This collaboration with your employees is an excellent opportunity for them to become thought leaders in their industry and help spread your brand message. While this should be optional for employees, it should be required for your executive team. 
I recommend staying out of political or social issues. Your brand exists to solve a problem. Unless that problem is directly related to those issues, it is best to stay away. Employee branding also helps improve employee loyalty, customer experience and attract top talent.
What time should you post?
It depends on what platform you are using. I recommend doing some research and looking for studies that show the best time and then do some testing to figure out what works best for you. If you can find a time when your audience is active but your competitors are not, it will benefit your brand. Make sure you are using the most recent data. Social media changed in 2020, and you need to find research done in 2021 or after. Whatever time you post, make sure someone is available to engage with people who respond to your post. Social media is all about being social so make sure you respond to questions and comments as soon as possible.
Make sure you have a brand style guide, so the post looks like your brand.
Does your brand have an approved style guide? At the very least, you should have brand-approved colors used in your posts, on your website, and in other marketing and sales collateral.  
Use a media library to organize and schedule your posts.
Some types of content you might want to consider are:
Stories on sites like Instagram. What is excellent about stories is people will watch them because the stories disappear after 24 hours. People are worried they will miss out.  

Short-form video
Look at what your competitors are doing. It might help you figure out what is working or not working or help you find gaps that you can fill with your content. Also, look at their numbers to see if you can see what is working and not working. I often see everyone in a specific industry doing the same thing, and it isn't working. Still, because one business is doing it, they all feel it must be the right thing to do.  
Always be Testing and Tuning
Your strategy will need to be changed throughout the year. Keep an eye on what is working and what isn't working. Monitoring your campaigns in real-time will help you make small changes instead of having to make significant changes that take lots of time and energy. 
We are finally at a point in social media where it is expected to produce an ROI, making the data more important than ever.  
Watch Out for New "Experts"
Some words of caution. There are many "experts" telling people they can start a social media business and get clients right away. Make sure you check to see how long they have been in business. You don't want to have someone learn on your dime.  
Social media is complex and requires a team that can read the data and is creative.  
Do you need help with your social media?  Contact one of our social media strategists.