eCommerce Product Video
It is hard to make your product stand out online—eCommerce sellers on sites like Amazon looking for an advantage over their competitors have turned to using eCommerce product video. Product video production services can help people better understand the product you're selling and, most importantly, make a purchasing decision. When done right, video adds motion to your product, gives it scale, and gives viewers the information they can't get from a photo or text. There is a lot you can't control with your product listing. It is easy for someone to copy your pricing or text. This means the essential part of your product listing is the photos and the video. There is a right way and a wrong way to make your video. Making the right product video has become crucial and the key to marketing and selling your product. A report from Shopify says that people are 64-85% more likely to buy a product that has a video. Here are the steps you can take to make a product video that increases product awareness and sales.
Stop adding to the noise
The main problem with product videos is that they are awful. They don't provide additional information than the photo or text already offered, and they lack creativity. Most product videos are a missed opportunity. Your video needs to provide the information your prospective buyer wants. It needs to explain the problem your products solve and how it will improve their lives. Ideally, it needs to show real people the product being used in the real world. This would be similar to your lifestyle images. If you can't afford an actual location, you at the very least need to use real people in your video on a solid color background with other items around your product to help give a size reference. They need to see how it will fit into their life—putting your photos in a slide show and calling that a video is a waste of everyone's time.
What problem does your product solve?
Start by making a list of all the problems your product solves. If it only solves one, that is OK. It only needs to solve one problem. Knowing the problem or problems your products solve is essential for creating eCommerce Product Video because people are looking for solutions to their problems. If you show that you understand their situation, you will get the opportunity to offer your answer, which is your product. If your product doesn't solve a problem, maybe you sell a luxury product, then you probably want your video to be more inspirational and lifestyle-focused about how good life will look if they were to have your effect.
Who is your target audience?
Who typically buys a product like yours, or you might also think about who is the decision-maker when it comes to purchasing? If more women buy your product than men, you may want to tailor your message to them.
What kind of video should you create?
What kind of product do you have? How much is selling it for? How competitive is the market for this product? Answering these questions will determine what type of video you create.
The three most common styles are
• Simple Product videos
• Lifestyle
• How to
A luxury product should be more lifestyle-oriented. A technical product should have more How-to information that helps explain how to use the product or critical features they will want to know more about. A product in a competitive market should have the best, most creative video you can afford to make the product stand out. You may be asking about animated video avoid animation because it doesn't show your actual product. The exception is lifelike 3D animation, but you won't want the whole video to be 3D; ideally, you will want to show the actual product to people for the reasons mentioned earlier in this blog. However, we have had a few instances where the product wasn't ready yet, and we put the 3D image into a real-world environment, but this option is not cheap.
Give your product a voice.
Many Amazon "experts say your video doesn't need a voice" because data from Amazon shows that people don't turn on the sound that is for many different reasons. Still, the main reason is that many sellers put nothing of value in the video's audio. This is a missed opportunity video is a show and tell medium. If you have a product that needs the extra explanation using a voice or a spokesperson in your video can help you explain more about your product in a shorter amount of time, giving you a completive advantage. If you are worried about people not turning on the audio, use captions or put a graphic on the screen inviting them to turn on the audio. Why don't more video production service agencies offer scriptwriting? It is because good scriptwriting is very hard.
Be engaging from the beginning
You must engage your viewer within the first three seconds of the video starting. The script for your eCommerce Product Video should communicate with your viewer about your product and demonstrate that it will answer any potential concerns within the course of watching. Thus, your video should catch attention from the word go.
One way to engage with your viewer is to have a noticeable figure presenting your video to which the audience can relate. That does not indicate you need to find a high budget to hire a celebrity to show the video. It would help if you had someone well-spoken that most people would relate to.
Set the mood and scene
TV and film series utilizes music as a vital part of their story-telling devices. Ensure you choose the ideal music for your eCommerce. Music adds emotion to your video. Subtlety is the key here. You wouldn't want to have your viewer's attention on the soundtrack rather than the speaker.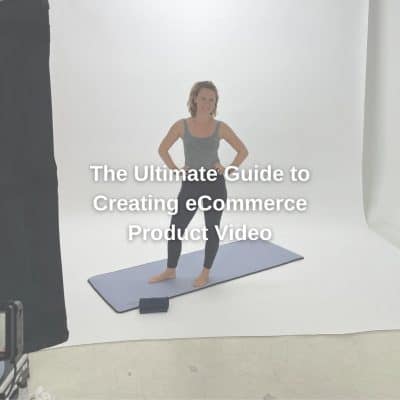 Hiring models
Make sure you use models who look like your ideal client and average size. In the United States, the average male is 5"9,' and the average female is 5"5'. Consider this when casting. If they are larger or smaller, they can make the product look larger or smaller, which could cause people not to buy or increase your return rate. The model size is significant if you are selling a clothing product. I recommend including the model measurements in your product listing if possible.
Writing a Video Script
If you do take our advice and use a voice in your video we recommend a professional script writer but if this isn't an options for you. Take that problem we talked about earlier in the video and address it then offer your product as a solution. Also think about any common objections people have when thinking about purchasing you product and consider answering them in your video.
Call to action
Most eCommerce retailers won't let you tell the viewer to visit a website that isn't the one that they are already on, but you can and should invite them to purchase your product. It doesn't need to be obnoxious or loud you can say something simple like order yours today. If you are going to use your video on social media tell them what to do to purchase the product. The same goes for your website.
Repurpose your product video
When we create a product video for one of the clients we often look for other ways the video can be used to maximize the video investment and increase sales across all channels. The cost to create an alternate version of your video is minimal. You should create a version for social media and if you have one your website. You may also want to create a 15-second version that you can use as an ad. Make sure these all have proper calls to action.
Do I Need A eCommerce Product Video?
Here are some questions you can ask yourself. Do I have a clear plan for how this video will drive sales, or am I creating this video for vanity purposes because the CEO or someone else thinks we should have a video? Do I have the budget to properly invest in the right set of videos that will drive sales? Do I have the budget and a plan for social media marketing? If the answer is no to these questions and you still want a video, find the cheapest video that won't embarrass your brand. If the answer is Yes, be ready to take some calculated risks and prepare for increased sales.
We hope this blog post gave you several strategies for making high-quality eCommerce product videos to receive customer attention. If you need help with your Amazon product video or eCommerce product videos, Miller Farm Media can help contact us today.
Not ready to get started yet download our free product video planning guide. You will get the form we use to plan our client's videos whether it has a voice or not and you will also get a bonus video that explains how to get the most out of planning your video with exclusive never before shared tips.