Video Content Marketing
For social media to work for your business, you need to create regular content. With so many marketing messages, it is easy for people to forget about you, but being there every week, or more, in a valuable way keeps you top of mind and builds relationships with clients and prospects. Creating a valuable tweet or taking a photo for Instagram takes more work than you think, but it is easy compared to creating a video. Creating one video is tough. Creating a series of videos, especially on a weekly basis, can seem impossible. The internet is crowded with videos that no one wants to watch. So, what do you do to keep your video from getting lost in the noise? How do you provide value for your prospects and clients?
Quality Over Quantity
First, quality is more important than quantity. There is a myth that videos for social media  don't need to look professional. The mistake in this statement is that the people that say this don't understand the different levels of video. Your posts don't need to look cinematic but they do need to follow the rules of good video. Your videos need to be recorded in a way that the person talking to the camera can be properly seen and heard. You can do this with your smartphone. While this doesn't necessarily mean you need lighting or professional audio, it does mean you need to pay attention to how your video looks and follow the basic rules for good video production. The more professional your brand, the more professional your videos need to look, even on social media.
Build to Quality
Just like with your favorite TV show, people need to know that there will be more videos for them to watch. If you can't create weekly content, then figure out what frequency works for you and stick to that schedule. Let your audience know when to expect your next video. You can't build an audience around one video. It is also unlikely that you will be able to get sales from just one video. Many companies create one company introduction video and expect it to drive sales. Driving sales with one video is very hard and the only type of video that even begins to do this is an infomercial.
How to Start Planning Your Video.
Start your video planning process by making a list of the problems your product or service solves. Then make videos about those things. People are online looking for answers. Be the expert that helps them. This also gives you an opportunity to sell them. Consider which platform you are using. People are looking for different things when it comes to YouTube vs creating a video for Instagram, so make sure you understand your target audience and what will resonate with them.
What Style of Video do You Need?
No matter what type of video you choose, video production services always cost more than you think it will. There are many different styles of video that you can create but, no matter what style you create, your content needs to do one of three things: inspire, educate or entertain. If you can make a video that does all 3 things, it will be an even bigger win. You can talk directly to the camera or do an interview talk show style. Look for what no one else is doing in your industry and use that opportunity to be unique. I like to challenge the brands we work with to create more entertainment type content, especially if they are in a business that is already full of thought leaders. Entertainment type content is more expensive to create because it is harder to create but it is more engaging. My favorite example was the reality show we created called "Shoot for Broke." It has been a great sales tool for us.
What Style Should I Choose?
Choose the style of video that fits your budget and your brand. If you are the Ferrari or Nordstrom of your industry or selling to high end clients, you need to make sure the videos you create to match your brand. That being said most brands will find the most sales success by featuring real people talking to the camera or in an interview style. Don't try to hide behind animation or PowerPoint slides. People will connect better with a real person. This will humanize your brand. Your spokesperson could be your CEO or a salesperson. You could even do some camera tests with your employees and choose the person who is the most natural on camera. Some choose to hire professional actors to be in their videos. For weekly content, I recommend using a real thought leader from your company. By investing in an internal thought leader, you will both benefit. As they are building your brand, they will also be building their personal brand which is a win-win. The pushback I get to this idea is the worry that the employee will leave. That might be true but as long as you have a good legal agreement with your employee and they don't commit any crimes, it is OK if they don't work for you anymore. Any time you involve people in anything, you take a risk. The same thing can happen with professional talent. One of the things we watch out for with professional talent is to make sure they don't have any images on social media that might not reflect the company well.
Script Writing
Script writing is all about planning for your video. Some people need to plan more than others. I need to have a script before I record a video. Some of my clients just need a well-planned title and some bullet points. It is all about what works best for you. I will tell you that most of my clients find it helpful to write out a script. You can write a script and read it from a teleprompter, or you can write out some bullet points and start recording. If you don't have a teleprompter, or if you try out the teleprompter and find that it doesn't work for you, you can record your scripts in chunks by memorizing a small part and recording that part and then memorizing another small part and recording again until the video is done. If you want to avoid scripting altogether, you can use an interview style to save money on script writing. This might also help you look more authentic on camera. If you do create a video that is in an interview style, make sure you plan the questions strategically to get the video you need.
Example from one of our clients
Here is the process our Orange County video production company went through for one of our clients, the American Marketing Association of Orange County: The video series was called "The Marketing Minute." When we started talking with the AMAOC about creating a video series, we found that we were not hearing the voice of the marketers inside of companies in their community. So, that became our focus: marketers who were working inside of companies. In order for social media to engage your followers, you need to provide value. It is really easy as a brand to only post content online that talks about your company and product or, in the AMAOC's case, their events.
The Process
Here is how and why we created the series. (You can follow these steps when creating a video series for your business.) If you are going to do weekly or episode video content, the format of the videos needs to have some consistent elements so viewers can recognize it as one of your videos before they even watch them. For the format of "The Marketing Minute" video series, we started with an opening statement from that week's guest. We tried to pick the most interesting comment from the video. The bolder the statement is, the better. We then cut to the AMAOC logo for branding. We kept this really short, between 3 and 5 seconds. It also provides a little production value. We then came back and let the guest introduce themselves. I wouldn't do this if we had the same person on camera each week, but since it's a different guest from week to week, an introduction is important to help the guest build credibility with the viewer. This also could have been done by the host of the interview if they are on camera too. I then asked them a few questions to get the information we teased at the beginning of the video. We closed out with a call to action that was tailored to the social media platform they were watching the video on. We would also invited them to attend one of the groups events. On YouTube, we leveraged the end cards feature and invited viewers to watch more videos.
Other Elements Needed
We also make sure we have a custom thumbnail that can be used across all of the social media platforms. The design of this thumbnail is very strategic to attract viewers.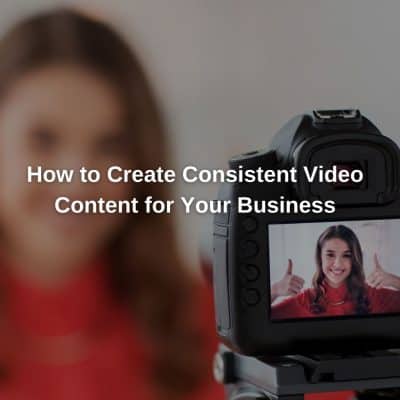 Link to thumbnail video
Here are a few other things that we do:
• We show up weekly. This helps us gain followers or subscribers because they know that if they subscribe, we will come back every week, just like their favorite tv show.
• We release the show at 3am PST every Tuesday so when people wake up, if they have subscribed, they will get a notification so they can watch the video while they eat their breakfast. This also allows the guest and the rest of the AMAOC team to share the video when they wake up.
Maximize your budget
The key to creating a weekly video is to batch the content. We shot as many interviews as we could in one day. Typically, we get two months of content in one 8-hour day; which is good when you consider that we only spend 2.5 hour at each location and 1 hour of actual recording time with each person. We have a system that we use for our clients that allows us to get a 6 – 12 months' worth of content in one day. That system doesn't work for this particular video series because part of the story is the unique locations of each of the experts we were talking to. No matter the type of video you create, you can't just hire a videographer or video editor and expect to get results. This process starts with a video strategist and is followed by a creative director. You need both to make sure you are creating the right message for the right audience.
Create a Sales Funnel
The other thing we did as a part of this series was to lay a proper foundation of videos online with a video sales funnel. We did this by creating a video that explains what the group is all about and creating a few videos that answer some frequently asked questions about membership. Video Sales Funnels are very important to the success of your video content. It allows you to increase sales. Videos are not a one-and-done type of marketing asset. If the videos are created around evergreen topics, they have at least a 5-year life span. They can be reshared over and over again. So, look at this as a long-term investment.
What are your competitors doing with video and where is the opportunity for your brand to use regular video to stand out and increase sales? Do you need help creating a video sales funnel? Learn more about our video alignment method which helps your company use video as a sales tool.