GET YOUR BUSINESS STARTED ON INSTAGRAM
Instagram is one of the fastest-growing platforms for business. If you have been on the fence about using Instagram for your business, this guide is your opportunity to help you build a social media strategy. We will show you how to set up a business account, develop your strategy, post, and grow your audience. There is no shortage of ways to advertise your business on Instagram. 
Instagram terminology
To get the most out of Instagram, you need to be up-to-date on some of the social network's terminology. Customers can send private messages to businesses through direct messages. These messages are usually referred to as DMs, but they're sometimes called chats.
Filters: You can apply presets to enhance features and colors in your photos. Follow: When you're following someone on Instagram, you'll be notified when they post new content. You can also view the stories they've posted at the top of the app. Followers: People who follow you will see your posts in their timelines.
Hashtags are similar to Twitter hashtags. You can use them to tag photos or videos. You can also use them to search for specific content. 
How to create an Instagram business profile
1. Instagram is available for download for Apple, Android, Windows, or your computer browser.  
2. Once the app is installed or on your in your browser. Click Sign Up. Enter your email address and choose your Full Name, username, and password. Make these your business name. You first have to set up your business as a personal account, and then you can switch it to a business account.  
3. You will then need to insert your birthday. I recommend using your birthday. Don't worry this won't show up in your profile. 
4. The final step is to send to have Instagram send a code to your email address or phone number. Insert the code, and you are good to go.
Now you have an Instagram personal account. To convert this into a business profile, follow these steps as you learn how to use Instagram for business.
How to switch a personal account to an Instagram business account
1. Go to your profile by clicking the empty profile icon. If you are using the app, it is in the lower right corner. If you are on a computer, it is on the upper right. On the app, click the three lines at the top right of the page known as the hamburger and select settings.  
2. scroll to the bottom and select switch account type. You can choose a business or creator account. If you are a business, you should choose business. It will ask some questions, then click next 
3. Next, choose a category, then click next. Business categories include Food & Drink, Travel, Fashion, Beauty, Home & Garden, Fitness, Health & Wellness, Automotive, Technology, Education, and many others.
4. Add your contact information and click done.  
Don't switch back and forth between account types. Some people do this because they think that professional accounts have a limited reach that isn't true, so pick an account type and stick with it. 
How to choose your Instagram profile icon
Your Instagram profile picture should be an image that represents your company or brand. A logo is a popular choice because it is easy to recognize and remember. If you are a small business or your brand has a prominent thought leader, you may want to use their image or their image with the company logo.  
Your Instagram Bio
Make sure you write a bio that quickly and clearly explains what you do. You can use emojis but resist the urge to talk about how great you are. Keep it focused on what you do for your clients, ideally the problems you solve. Include a call to action to invite them to click your link.
Optimize your link in bio
Social media managers have got creative on how to take advantage of the single link in the Instagram bio. It's become common to refer to your link in bio in posts and use it to serve up a landing page with a mix of recent and evergreen links to your most important product and service pages.
"The landing page is an extension of your website. This means that you can use this page as a starting point to get more people to come to your site. You can also use this page to ensure that your visitors know what they're getting into when they land on your site. There are a few different services you can use to help you with this. I recommend hosting the page yourself because it will instantly drive traffic to your website instead of going to a 3rd party first. 
Define your target audience
You need to know what people want before you try to sell them something. Demographics, psychographics, and behaviors should define your customers.
Competitors research and compare how your audience varies. Knowing who's in the audience puts you in a more informed position to create content. Looking at the type of content people post and engage with them. Using this information to inform your creative strategy will help you be more successful.
Set goals and objectives
An Instagram strategy helps you identify what success looks like. Be clear about your goals and objectives. Your social media strategy should align with your business goals and overall marketing strategy. You need to invest time, energy, and resources in your social media presence. Your Instagram strategy should establish what your business objectives are. It will help if you start by identifying what you want to achieve on the platform, then apply the SMART framework to make sure your goals are specific, measurable, attainable, relevant, and timely. Your goals will also determine what type of content you post.  If you need help figuring out your goals we offer social media marketing services to help you. 
Add professional-looking photos
Instagram is a photo-sharing social media platform. It's crucial to share visually appealing content. We recommend using professional photography services. 
Use all that Instagram has to offer
Instagram has four different parts reels, feed, stories, explore. Each of these surfaces has an algorithm. The more you can use each surface and engage your audience, the more love Instagram will show your content.  
Use Instagram Stories
You can post recorded video, still photos, live video, boomerang, basic text, music, and focused images on Instagram stories. You also can add stickers such as your locations, temperatures, user tags, and hashtags. Stickers for polls, questions, and slideshows make interacting and getting feedback easy. Some account uses the question feature to hold a weekly ask me anything, which is a fun and exciting way to answer common questions about yourself or your business.
Another way to draw attention to my brand is by using Stories Highlights, which stays on your profile, unlike regular stories that disappear after 24 hours.  
Stream live videos
Users can share videos with friends and followers using Instagram stories. They can also take and stream live videos that disappear – sort of like a cross-between Facebook Live and Snapchat. Customers can see what goes on behind the scenes of an exciting aspect of your business. They can ask you questions through the comments.
You can take videos and photos using the app. Once you're done shooting, you can share them on your Instagram stories. You can also edit them before sharing.
Try Instagram Stories and IGTV
 Through IGTV Instagram TV, you can show long-form, vertical videos. Each video can be up to an hour-long. You can host any events on it: From FAQ sessions to how-to chats. And you can also post previews to the event.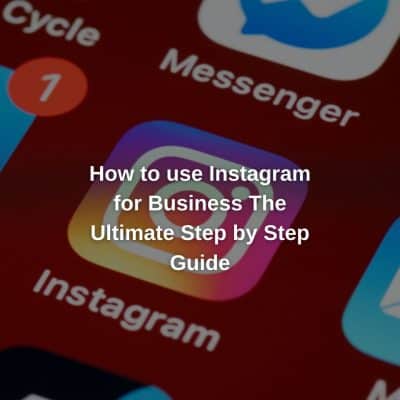 Interact with other Instagram users
Don't post and ghost. Make sure you respond to comments on your posts and like and comment on photos to get more followers.
You can mention other users by tagging them in your Instagram posts. You can also tag other users in your photos. When you share an Instagram photo, other users can view the people tagged in the image.
You can send direct messages to people who aren't following you. You can also send photos and videos directly to friends. When someone receives an image or video, they will see a notification saying that you sent them something. They will then be able to reply to you by tapping the notification.
Expand your reach with hashtags
Hashtags make it easy for people to find your content. 
Hashtags are used to categorize the content. They help people find things more easily. Hashtags work well when there is a lot of content. For example, if you were writing a blog post, you might use a hashtag like a blog post. This helps people who search for blogs to find your post.
Even though the maximum number of hashtags allowed is 30, I don't recommend using that many. But it would be best if you used a combination of different types of hashtags. Popular Hashtags, Moderately popular hashtags, Niche-specific hashtags, Personally branded hashtags
Add Value With Your Content
Instagram is a visual platform, but it's also about creating great content. You need to deliver quality posts that attract an audience and encourage them to interact with your business. Think about ways you can delight your customers. Stay true to your brand.
Your post should usually be 80% helpful information, and 20% can be posts that sell. 
Maintain a Consistent Theme
Each Instagram post should be good on its own. Ideally, you'll want to create a cohesive theme. Use the same colors, fonts, and filters. Your Instagram feed should be consistent across all platforms. Create a consistent tone of voice and a unified feed aesthetic (hashtags, captions, stories).
You might think your brand should appeal to many different people, but focusing on a single theme will help you create more robust and authentic connections. 
Consider Influencer Marketing
Influencers are people who their followers already know. Their followers trust them because they know these people personally. You can use this to your advantage when you post content about your product or service. Their followers trust them, and they are more likely to buy things if they recommend them.
Micro-influencers are people with smaller audiences and are usually the most cost-effective. They can be just as valuable because a micro-influencer may have a niece audience that are people you want to talk to.  
Set up a posting schedule
Posting regularly is vital to keep followers interested. You should know how long it takes to create posts and when to post them. Make sure to consider the time needed to create posts and when people are likely to be online.
Next, you need to commit yourself to a regular posting schedule. Make sure you're on Instagram at least once a day. Do some research and testing to see what time you should post. To help you stay consistent, consider using a content planning calendar. 
Do you need some help with your instagram strategy or creating content.  We offer social media marketing services.  Contact us to learn more.