A happy customer or client testimony is very important for all businesses, especially B2B companies.  Even if you sell parts for aircraft, a testimonial or recommendation from a happy client is a tool for your sales to help build confidence and trust.
A testimonial should be used as part of your sales process, and it needs to be used online. Online reviews are the most credible word of mouth available today. B2B companies have been slow to ask for online reviews because of the perception that testimonials are only for B2C brands. Some B2Bs avoid them because they're afraid that they might get a bad review.  My favorite excuse about why a B2B isn't using testimonials is that their buyer wasn't looking online. Times have changed and even if you sell rubber gaskets that go into another product, people are researching online before they make a purchase.  This means the information you have online should be a clear sales message.
In the past, a B2B's online reviews were never perceived as important, but recently it is. As a matter of fact, many research studies have revealed that more than 80% of the buying decisions are influenced by online reviews and social media. Because B2B companies are notorious for failing to properly use their website design and online reviews, also known as testimonials, online it makes it a competitive advantage for those who take the time to get it right. B2B buying decisions are usually much more complex and require higher levels of trust than your average consumer shopping for a television. B2B buyers rely heavily on referrals and recommendations from colleagues, friends, and trusted advisors. In this context, online reviews can act as powerful advocates for your brand.  Sales leaders can make this a competition to see who can get the most referrals.
I understand.  It is awkward to ask for an online review.  But if you are a sales professional, this should be a part of your process. Use it as an opportunity to follow up.  You can also let them know right after they have purchased that you will be following up with them and, if it is OK, you will ask for an online review.  This helps set the stage for that future contact.  What if they didn't have a good experience with your company?  Then it is a good opportunity for the salesperson to collect some data to help fix whatever the problem was so that it doesn't happen again.  What if the company doesn't allow it?  Does it allow your main contact to leave a personal review that doesn't mention the company or use a company email address? There are times with it isn't possible to get a testimonial but make sure you don't just assume that they won't help you.
Video testimonials
While many online review sites are text only, the most powerful form of a testimonial, next to taking your happy customers to every meeting, is video.  Video testimonials put a face with your testimonial.  It is also harder to fake a video testimonial because if someone is willing to go on camera to talk about how great you are to work with, chances are they are a real person.  I have seen some companies hire actors to give testimonials and I don't agree with that, but doing this is rare.  The way your testimonials are formatted is key.  You want them to be natural, but you need to format them in such a way that people want to watch them.  Start with the problem your client was having and then have them tell the camera how you solved the problem.
Which review sites should you use?
Not all online review sites are going to be good for your company.  But no matter what your industry, there a site is out there for you.   'Google my business is always a good choice because it is integrated with all the Google properties.  When someone is searching for your business, that review shows up in a few places, but I think the most important spot for it to show up is in Google Maps.  Google also looks at review sites credibility for ranking your website in search.
You may also want to consider Clutch.  We have recently joined Clutch and received our very first review! But before anything else, what is Clutch?  Clutch is a B2B market research company in the heart of Washington, DC that aims to help businesses of all sizes identify and connect with the agencies they need to achieve their goals. Their team of analysts collects clients' feedback, analyzes industry data, and compares competitors in the market to provide entrepreneurs and managers with the information they need. Beyond being a B2B company resource, Clutch also ranks service providers based on various factors, including industry experience, verified client reviews, and market presence.
I like Clutch because they call each person who leaves a review, which helps verify the review.  I think this process makes the review more credible.  I have been very frustrated with some of the other review sites because it is easy to game the system and sometimes Google has moved those sites to the top of search ranking over some of the search terms we have been going for.  All that being said, I have found Clutch to be a reliable source of information.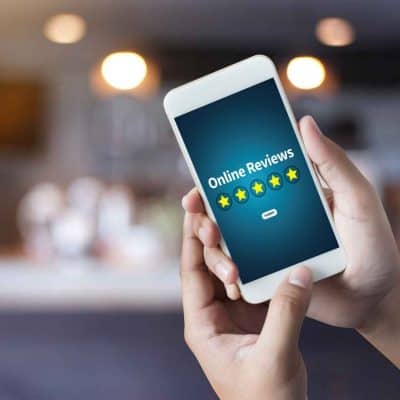 Miller Farm Media Receives First Clutch Review
At Miller Farm Media, we help businesses achieve their goals through effective video content. We're a video production company that creates videos for training, events, advertisements, and more. With over two decades of experience, we understand the powers of visual storytelling and why it should be the center of a brand's sales process. Beyond being filmmakers, we're also marketers that know what it takes to drive engagement among your audience. Because of this, our video content results in increased leads and sales.
The review was about our engagement with a digital marketing company. To help them explain their services to their customers, we produced a company introduction video for their team. We collaborated with the client as we fine-tuned the script and finalized the actors and the production set. Then, we shot the video and edited it with multiple endings for different ad campaigns.
The video received positive feedback, and the client was able to use it for their social media marketing. They praised our project management skills, as we kept everything on schedule and within our timeline. Additionally, they commended the quality of our work. According to the founder of the digital marketing company, "I think the most impressive benefit of working with Miller Farm Media is their expertise in video shooting and editing. The video came out very professional and artistic. I am already planning on getting them to produce a new video for another marketing objective."
The client rated us for our quality of work, scheduling, cost-effectiveness, reliability, and overall performance. We're happy that we received perfect five stars across all metrics for our first review on Clutch!
Additionally, Clutch's sister website The Manifest included us in their leaders list and named us a Top Video Production Company! The Manifest is a business news and how-to platform that analyzes and compiles industry data. Their site serves as a useful guide that allows entrepreneurs, SMB owners, and industry managers to connect with top agencies. We're honored to be one of the leading providers in our industry.
We thank everyone who took the time to review our work. Their positive feedback validates our team's hard work, and at the same time, inspires us to continue improving our video production services.
Do you have a video project in mind? Contact us today, and let's discuss the many ways we can help!