Video Production Subscription Services
If your company needs to create a series of videos and save money on production costs, a Video Production Subscription Service is a great way to get the videos you need at a discount.  Maybe you need to stay top-of-mind on social media. Perhaps you need to provide training, communicate internally, sell products online, or perhaps you need to create a video sales funnel.   A video production subscription can help with all these things and more.  There are two types of subscriptions, the Do-It-Yourself (DIY) and the Done-For-You subscription.
Do-It-Yourself Packages (DIY)
Do-It-Yourself video usually includes a library of assets you have to put together yourself.  These videos are typically used on social media.  These are more commonly called Stock Video Subscription services. The subscription may include videos, photos, and some templates to help you create your videos.  Because these videos use only stock elements and text, they fail to make a human connection between your business and the viewer because the video fails to provide someone they can connect with on a human level.  This might be OK if you need a quick video for social media posts, and they might work for ads, but typically they are poor for other types of videos such as training and driving sales, especially if you have a complex selling process.
Video Production Packages
Video Production Subscription Services, when done right, is a customized plan for your business.  That takes the stress out of video creation, and it is like having an in-house video production team without all the overhead costs.  You get new content every month without you having to learn how to do it yourself.  You also get access to a team of experts to help you through the video creation process.  The most effective videos are recorded featuring real people, whether from your company or a paid spokesperson, so your viewer can connect with your brand on a human level.  People want to connect with other people.  Making human connections is a competitive advantage for your brand.  Our video production subscription includes everything: scriptwriting, equipment, crew editing, and more. The more videos you create, the more you save, allowing you to budget your videos for a whole year.
What Makes A Good Video
Good video takes more than a videographer and an editor because they are focused on making nice-looking videos, not driving business or other goals. Excellent-looking videos are essential, but it is only part of the process.  A good video takes a team.  It starts with a video marketer.  A video marketer understands sales, marketing strategy, story, and how to arrange the images to tell a story to get people to take action.  But they don't do all the work themselves, they use a team of professionals.  Good video clearly communicates how you help your customer solve their problem.  No one cares about your company until they know you understand their problem and can solve their problem.  Even the most basic company video is more effective when properly using a story formula to communicate its message.
Video Production Is Stressful
Video has a good reputation for helping businesses with sales, training, and communication.  A report by Hubspot found that a video on a page of your website often called a landing page boosts conversions by 80% or more. Many companies still don't create the videos they need, usually due to the cost and complexity of making videos.  Video is the most difficult of all the content types to develop.  Have you ever watched the credits of a movie?  It takes all those people to make sure the picture is successful.
In contrast, you might not be creating a blockbuster film but you still need the right people to get the results you want.  There are three main parts of the video production services process:  Pre-production, Production, and Post-production.  Those three things are then broken down into 30 more things that need to be considered when creating a video.
The Process
Create a video strategy tailored to your business. A good video takes a team of experts. It starts with a video marketer who understands the sales process, especially the complex B2B selling process.  Next, you need a conversion scriptwriter, someone who understands how to write in a way that gets people to take action.  Then the video needs to be recorded with the right plan and in the right way.  For example, a person talking to the camera and standing the wrong way can make the viewer nervous.  It is essential to know these little things for the success of your video.   With a video production subscription, you can focus on your job and leave the videos to someone else. Video production subscriptions also save you time because you don't have to go through the proposal process for each video you want to make.
Where Do You Want To Go?
The process starts with goals.  What do you want this series of videos to do for your business? If your videos are to drive sales, you should know where your video fits into the marketing funnel, and you will want to create a video for each stage of the marketing funnel.  Many companies only create videos for the awareness stage of the marketing funnel, missing out on sales.   Make sure you have videos in each of the five steps.
Sales From Digital Marketing
If your videos are for sales, we have developed what we call the Video Alignment Method.  The video alignment method looks at your sales process to see where things are out of alignment and could help the sales team close more deals.  Does your website have the right message? Is your sales team using video in their emails?  Do you have a lead scoring process to let the sales team know when to call a prospect?  Do you have a system that enables prospects to guide themselves through the buyer's journey before they are ready to talk to a salesperson?  All of this is considered in the Video Alignment Method.
Our Secret Sauce The Video Alignment Method
What makes our Video Production Subscription Services unique is the Video Alignment Method. The Video Alignment Method is a 4-step proprietary framework designed to help you align your sales process on and offline.  To help you attract more prospects and close more deals by making your message clear and your sales team more efficient. The Video Alignment Method teaches your sales team how to sell remotely. But more importantly, it helps your prospects know if they should be working with you.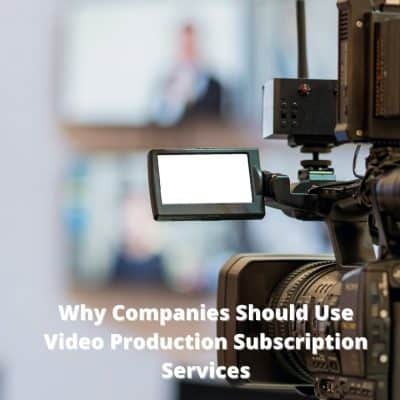 Video Is All About Trust
In business, trust is the most important thing.  Video helps build trust because it enables you to connect on a human level.  Video can't do it all, but it shortcuts the trust-building process.  When trying to build trust you need clarity. This is done with clear communication using video formatted correctly in a way people want to be communicated with.  There are other elements of building trust, such as compassion, character, and commitment, to name a few.  Video can't do all of these things, but it is a way to increase trust between one-on-one interactions.
How Does A Video Production Subscription Save Me Money?
Well, it is like buying toilet paper at Costco. The more you buy, the more you save.  It also allows you to set your budget for the year.  It will enable us to help you test and tune your message and sales process.  Because we know you are in for the long haul, we are willing to offer special pricing.
Our Video Production Packages
The packages you will find on our website are designed with sales conversion in mind. They can be used for other types of videos, as mentioned earlier in this post.  We help you increase sales by making selling easier.  Not all done for your subscriptions are equal. If the price varies significantly between the agencies you are talking with, make sure you see what is missing.  Often it is scriptwriting and an actual video marketing strategy.  If they are not talking about the buyer's journey and understand sales funnels, they are probably talking about awareness.  This is because most video production companies and videographers are an artist, and while they can make a nice-looking image, pretty pictures don't move your business forward.
When it comes to video production subscription services, we've got you covered. We have been creating videos since 2000. We're not just a video marketing company. We are a full-service marketing agency helping clients with websites, social media, photography, and many other services. We can help you develop and capture your brand personality into a series of videos that will give your business the marketing edge it needs to reach new clients and customers.  Contact us today!